ULP series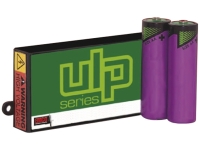 Ultra-Low Power Consumption
Can operate for up to 4500 hours at no load on 2 Lithium AA Batteries
Can operate on Alkaline AA Batteries
Regulated, Programmable Output
Output Voltage Monitor / Read-back
Arc, Overload & Short Circuit Protected
Designed to meet RoHS Directive
Miniature Lightweight Package
The ULP Series of miniature high voltage power supplies offers orders of magnitude reduction in power consumption, enabling designers to reduce battery size and weight in portable, scientific instruments.
Standard output voltages are available from 500 V through 5 kV, with power consumption at full output voltage, no load, running typically just 2 mW.
The output voltage is regulated and programmable, and is capable of delivering up to 4 W of power on demand at a typical conversion efficiency of >85%. Its proprietary packaging results in a lightweight package weighing typical 2.0 ounces (51 g), and features a height of only one half inch (12.7 mm). Perfect for "green" designs, these power supplies also feature a shutdown pin which drops current consumption to less than 5 µA.
Specifications:

Input Voltage: 5.4 V - 7.4 V
Input Power (No Load): 2 mW typ.
Input Power (Full Load): 4.75 W max.
Programming Voltage: 0 - 2.5 V (input), <30 µA
Voltage Reference: 2.5 V (output)
Voltage Monitor: 0 - 2.5 V (output)
Shut Down: TTL High (input)
Dimensions (LxWxH):
83.8 x 38.1 x 12.7 mm3
Operating Temperature:
-20°C to +70°C

Applications:

Portable, Battery Powered Instruments
Electrophoresis
Biological & Nuclear Detectors
Avalanche Photodiodes
Photomultiplier Tubes
Solid State Detectors
EO Lenses
Piezo Devices
Electrostatic Field Generation
Capacitor Charging


Options:

T - Extended Operating
Temperature
-55°C to +85°C
Model Overview
Model
Output Voltage
[VDC]
Output Current *1
[mA]
ULP05P
+150 - +500
0 - 8
ULP10P
+300 - +1000
0 - 4
ULP20P
+600 - +2000
0 - 2
ULP30P
+900 - +3000
0 - 1.33
ULP50P
+1500 - +5000
0 - 0.8
*1 - At maximum rated output voltage