U3, U6 series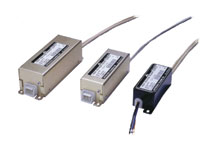 Ultra compact, light weight
Input/Output proportional
Low ripple
High reliability
Floating Output (up to 6kV units)
Detachable input connector
R.F.I. shielding, miniature aluminum case

Applications:
Electrostatic chuck
Photomultiplier tubes
MCP, radiation counter
Electron beam / ion beam
MASS spectrometry
Electro microscope
High voltage testing

These compact input/output proportional HV modules were designed with the OEM in mind. They are perfect for PMT, MCP and radiation counter applications, or whenever less load regulation is required.
Models up to 6kV feature an isolated primary and secondary, just right for floating applications. With a wide lineup ranging from 300V to 25kV and 3W to 6W, you are sure to find a model that is best suited to your needs.
Both series differ in max. output power: 3W or 6W.
Output Voltage
Output Current
Minimum Load
Model
Ripple I/O
Isolation
Case

0.02 - 0.3kV

10mA

30kOhm

U3-0.3PN

0.12%p-p

C1

0.04 - 0.6kV

5mA

120kOhm

U3-0.6PN

0.1 - 1.1kV

2.75mA

400kOhm

U3-1.1PN

0.1 - 1.5kV

2mA

750kOhm

U3-1.5PN

0.2 - 2kV

1.5mA

1.3MOhm

U3A-2PN

C2

0.2 - 3kV

1mA

3MOhm

U3A-3PN

0.4 - 6kV

0.5mA

12MOhm

U3A-6PN

0.15%p-p

C3

0.8 - 10kV

0.25mA

40MOhm

U3A-10*

0.05%p-p

----

C4

1.2 - 15kV

0.2mA

75MOhm

U3A-15*

C5

2 - 25kV

0.1mA
250MOhm

U3A-25*

C6

0.03 - 0.3kV
20mA
15kOhm

U6A-0.3PN

0.15%p-p

C2

0.05 - 0.06kV
10mA
60kOhm

U6A-0.6PN

0.1 - 1.1kV
5.5mA
200kOhm

U6A-1.1PN

0.1 - 1.5kV
4mA
375kOhm

U6A-1.5PN

0.2 - 2kV
3mA
0.65MOhm

U6A-2PN

0.2%p-p
0.2 - 3kV
2mA
1.5MOhm

U6A-3PN

0.3 - 6kV
1mA
6MOhm

U6A-6PN

C3

0.5 - 10kV
0.5mA
20MOhm

U6A-10*

0.05%p-p

----

C4

0.8 - 15kV
0.4mA
37MOhm

U6A-15*

C5

1.4 - 25kV
0.2mA
125MOhm

U6A-25*

C6
SPECIFICATIONS



Input Voltage/Current:
U3: 2-15V

DC

, 300mA typ
U6: 2-24V

DC

, 360mA typ
Output Voltage:
Proportional to input voltage
Output Polarity:
PN Type: Reversible Polarity
P, N Type: Fixed Polarity
Load Regulation:
U3: 8% typ for 50% load change
U6: 12% typ for 50% load change
Protection:
Arc & momentary short circuit protected
Input terminal:
Flying leads 25cm (0.8 feet) (C1 Case type)
3pin connector (2kV-10kV): (C2-C4 Case type)
8pin connector (15kV-25kV):(C5, C6 Case type)
Accessories:
Mating connector and pins
Recommendation:
wire are AWG18
Crimp Tooling for Molex crimp terminal
2478, 2578
Output Cable:
HV flying lead 25cm (0.8 feet) (up to 6kV)×2
HV flying lead 50cm (1.6 feet) (10kV-25kV)×1
Temperature range:
Operating: -10°C to +60°C


*Specifications are subject to change without notice
OPTIONS

CN3U Assembled input connector (Accessory for C2, C3, C4 Case models)
(connector with 250mm flying leads)
CN8U Assembled input connector (Accessory for C5, C6 Case models)
(connector with 250mm flying leads)