TE series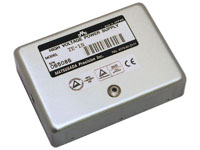 TE series is compact, ultra low ripple and well-regulated high voltage power supplies suitable for various OEM or laboratory application. Electrostatic shielding is provided through 6-sided shielding.
All models provide arc and continuous short circuit protection for safe, reliable operation.

FEATURES
NRTL (UL1950), TÜV, CE approved
4W high power PCB mountable
Low ripple, high stability, and well regulated output
Low noise due to 6-sided shielding
External potentiometer or external control voltage programming
Continuous short circuit protection

SPECIFICATIONS
Input Voltage / Current: +15VDC ±1V / 450mA typ.
Output control: By external 5kΩ potentiometer
or external control voltage 0 to 6VDC
Line Regulation: ±0.02% of max. voltage for Vin ±1V
Load Regulation: 0.02% of max. voltage for full load change
Stability: 0.01%/h, 0.03%/8h
Temperature Coef.: 0.007%/°C
Protection: Overload, arc and continuous output short circuit
Temperature range:
Operating: -10°C to +60°C
Storage: -25°C to +85°C
Weight: 120g approx.

Notes:
* Specifications are at the maximum rated output after ½h warm-up.
* Specifications are subject to change without notice.
Output Voltage (kV

DC

)
Output current (mA)
Model
Ripple
(mVp-p)
Positive polarity output
Negative polarity output
0 - 0.8
5
TE-0.8P
TE-0.8N
10
0 - 1
4.2
TE-1P
TE-1N
20
0 - 1.5
2.7
TE-1.5P
TE-1.5N
30
0 - 2
2
TE-2P
TE-2N
40
* Output voltage range for this output current is 50% to 100% of maximum output voltage.
* Output current must be derated linearly when operating at levels below 50% of the output voltage capability.