S series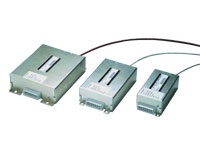 Applications:


PMT, MCP
High Voltage Testing
CRT, X-ray Tubes
Electron Beam Focusing
MASS spectrometry
Analytical & Nuclear Instruments

Features:

Low Noise, High Stability
High Reliability
Fully Encapsulated Metal Case
Remote Programming
Protected agains arc & short circuit
The S series is a regulated, versatile, modular HV power supply used in a wide variety of applications including mass spectrometry and electron microscopes. It can also be used as a power supply for CRT and X-ray tubes, electronic beam focussing, analytical and nuclear instruments as well as for high voltage testing.
Remote programming as well as protection against arc and short circuit is integrated. An output current monitor and an optional output voltage monitor is is provided.
5 different levels of output power are available: 1.5W, 3W, 6W, 15W and 30W.
kV
1.5W
mA
Model
Ripple %p-p
Case
0-0.6
2.5
S1-0.6*

0.008

C3B
0-1.1
1.4
S1-1.1*

0.005

0-1.5
1
S1-1.5*
0-2
0.75
S1-2*
0-3
0.5
S1-3*
0-5
0.3
S1-5*
0-6
0.25
S1-6*
0-10
0.15
S1-10*

0.01

C5
0-12
0.12
S1-12*
kV
3W
6W
mA
Model
Ripple %p-p
Case
mA
Model
Ripple %p-p
Case
0-0.6
5
S3-0.6*

0.008

C3B
10
S6-0.6*

0.008

C3B
0-1.1
2.75
S3-1.1*

0.005

5.5
S6-1.1*
0-1.5
2
S3-1.5*
4
S6-1.5*
0-2
1.5
S3-2*
3
S6-2*
0-3
1
S3-3*
2
S6-3*
0-5
0.6
S3-5*
1.2
S6-5*
0-6
0.5
S3-6*
1
S6-6*
0-10
0.3
S3-10*

0.02

C5
0.6
S6-10*

0.02

C5
0-12
0.24
S3-12*
0.46
S6-12*
0-15
0.2
S3-15*
C6
0.36
S6-15*
C6
0-20
0.13
S3-20*
0.26
S6-20*
0-25
0.1
S3-25*
0.2
S6-25*
0-30
0.08
S3-30*
C6A
0.16
S6-30*
C6A
kV
15W
30W
mA
Model
Ripple %p-p
Case
mA
Model
Ripple %p-p
Case
0-0.6
25
S15-0.6*

0.2

C6
50
S30-0.6*

0.2

C6+HS
0-1.1
12
S15-1.1*

0.01

25
S30-1.1*

0.03

0-1.5
10
S15-1.5*
20
S30-1.5*
0-2
7.5
S15-2*
15
S30-2*
0-3
5
S15-3*
10
S30-3*
0-5
3
S15-5*
6
S30-5*
0-6
2.5
S15-6*
5
S30-6*
0-10
1.5
S15-10*

0.2

C6A
3
S30-10*
C6A+HS
0-12
1.2
S15-12*
2.5
S30-12*
0-15
1
S15-15*
2
S30-15*
0-20
0.75
S15-20*
1.5
S30-20*
0-25
0.6
S15-25*
C6E
1.2
S30-25*
C6E+HS
0-30
0.5
S15-30*
1
S30-30*



SPECIFICATION
Input Voltage/Current:
S1: +12V

DC

±1V

DC

,
up to 6kV: 380mA typ
10kV to 30kV: 410mA typ,
S3: +24V

DC

±5%,
up to 6kV: 330mA typ
10kV to 30kV: 360mA typ
S6: +24V

DC

±5%,
up to 6kV: 500mA typ
10kV to 30kV: 550mA typ
S15: +24V

DC

±5%, 1A typ
S30: +24V

DC

±5%, 2A typ
Output control:
By external 5k potentiometer or external
control voltage
(S1, 3, 6:0-6V

DC

, S15, 30: 0-3V

DC

)
Line Regulation:
S1,3,6 up to 6kV : ±0.005%
S1,3,6 10kV to 30kV : ±0.01%
S15,30 0.6kV : ±0.03%
S15,30 1.1kV to 30kV : ±0.03%
Load Regulation:
S1,3,6 up to 6kV : 0.005%
S1,3,6 10kV to 30kV : 0.01%
S15,30 0.6kV : 0.05%
S15,30 1.1kV to 30kV : 0.02%
Stability:
S1, 3, 6: 0.01%/hr S15, 30: 0.02%/hr
Temperature coeff.:
80ppm/°C
Protection:
Overload, arc & short circuit protected
Temperature range:
Operating: 0°C to +50°C
Storage: -20°C to +60°C
Input terminal:
8 pin connector
Accessories:
Mating connector and pins
Recomendation:
wire for pin 1, 2 are AWG18
wire for pin 3-8 are AWG22-18
Crimp Tooling For Molex Crimp
terminal 2478,2578
Output Cable:
HV flying lead 50cm (1.6 feet)
Weight: Case:
C3B: 320g
C5: 500g
C6: 980g
C6+HS: 1200g
C6A: 1400g
C6A+HS: 1600g
C6E: 2100g
C6E+HS: 2400g


*Specifications are at the max rated output power after ½hr warm-up
*Specifications are subject to change without notice






OPTIONS
LW:
Slow Start

L2:
Voltage Monitor Output
up to 6kV: 1V/@1kV
10kV to 30kV 1V/@10kV
CN8R:
pre-assembled connector with 250 mm flying leads