Q, QH series
Output up to 10kV; 0.5W, 1.25W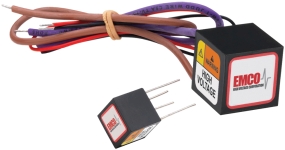 Ultra-Miniature Case Size
Proportional Input/Output
Optional Control Pin
Input to Output Galvanic Isolation
Low Input/Output Coupling Capacitance
Low Leakage Current
Short Circuit Protection, 1 Minute Minimum
No Minimum Load Required
No External Components Required
Four Standard Input Voltage Ranges
Designed to meet UL 94V0
MTBF >3,000,000 hours, per Belcore TR 332
The Q / QH Series is a broad line of ultra-miniature, high reliability HV DC/DC converters supplying up to 5,000 V in only 0.125 cubic inches and up to 10,000 V in only 0.614 cubic inches. These component-sized converters are ideal for applications requiring minimal size and weight.
The output is directly proportional to the input voltage and is linear from <0.7 V input to maximum input voltage, allowing for an adjustable output voltage. Output is load dependent. Isolation is ±500 V bias on output return. A control pin option allows full control of the output via a high impedance input, ideal for error-amplifier control in closed-loop systems.
No external components or minimum load are required. The output ripple is extremely low for this package size. Light weight and wide temperature range make these units ideal for portable, battery-powered equipment. Many models feature a center-tap option, which creates both a positive and a negative output from one miniature, low cost unit. An alternate pin pattern is available for users wishing to upgrade without modifying their board design.
Specifications:

Input Voltage: 0-5 VDC (all models),
0-12 VDC, 0-15 VDC, 0-24 VDC (models up to 3 kV)
Turn-On Voltage: < 0.7 VDC
Isolation: < ±500 V bias on output return
Output Voltage Tolerance: +5%/-10%
at full load, max. output voltage
Input/Output Coupling Capacitance: < 50 pF typ.
Input/Output Leakage Current: < 250 nA typ.
Ripple Q Series: 1%p-p max.
Ripple QH Series: 2%p-p max.
Control Pin Voltage: 0 to max. input voltage
Dimensions (LxWxH):
Q/QH01 to Q/QH50: 12.7 x 12.7 x 12.7 mm3
Q60 to Q101: 21.6 x 21.6 x 21.6 mm3

Applications:

Avalanche Photodiodes
Photomultiplier Tubes
Light Sources
Piezo Devices
Sustaining Ion Pumps
Electrophoresis
Printers, Igniters
Capacitor Charging


Options:

C - Control Pin - up to 5 kV
CT - Output Center Tap -
up to 900 V
R - RoHS Compliant
S - External Copper Shield
T - Extended Operating
Temperature -
Q Series up to 5 kV
Floating Output Models (Center Tap Option Available)
Output Voltage
0.5 W Models - Q Series
1.25 W Models - QH Series
[VDC]
Model
Max. Output Current *1
[mA]
Model
Max. Output Current *1
[mA]
0 - 100
Q01-*2
5.000
QH01-*2
12.500
0 - 150
Q015-*2
3.333
QH015-*2
8.333
0 - 200
Q02-*2
2.500
QH02-*2
6.250
0 - 250
Q025-*2
2.000
QH025-*2
5.000
0 - 300
Q03-*2
1.667
QH03-*2
4.167
0 - 350
Q035-*2
1.429
QH035-*2
3.571
0 - 400
Q04-*2
1.250
QH04-*2
3.125
0 - 450
Q045-*2
1.111
QH045-*2
2.778
0 - 500
Q05-*2
1.000
QH05-*2
2.500
0 - 600
Q06-*2
0.833
QH06-*2
2.083
0 - 700
Q07-*2
0.714
QH07-*2
1.786
0 - 800
Q08-*2
0.625
QH08-*2
1.563
0 - 900
Q09-*2
0.556
QH09-*2
1.389
Fixed Polarity Output Models
Output Voltage
0.5 W Models - Q Series
1.25 W Models - QH Series
[VDC]
Positive Output Model
Negative Output Model
Max. Output Current *1
[mA]
Positive Output Model
Negative Output Model
Max. Output Current *1
[mA]
0 - 1000
Q10-*2
Q10N-*2
0.500
QH10-*2
QH10N-*2
1.250
0 - 1200
Q12-*2
Q12N-*2
0.417
QH12-*2
QH12N-*2
1.042
0 - 1500
Q15-*2
Q15N-*2
0.333
QH15-*2
QH15N-*2
0.833
0 - 2000
Q20-*2
Q20N-*2
0.250
QH20-*2
QH20N-*2
0.625
0 - 2500
Q25-*2
Q25N-*2
0.200
QH25-*2
QH25N-*2
0.500
0 - 3000
Q30-*2
Q30N-*2
0.167
QH30-*2
QH30N-*2
0.417
0 - 4000
Q40-5
Q40N-5
0.125
QH40-5
QH40N-5
0.313
0 - 5000
Q50-5
Q50N-5
0.100
QH50-5
QH50N-5
0.250
0 - 6000
Q60-5
Q60N-5
0.083
0 - 8000
Q80-5
Q80N-5
0.063
0 - 10000
Q101-5
Q101N-5
0.050
*1 - At maximum rated output voltage

*2 - Input voltage range designator: "5", "12", "15" or "24" for 0-5 VDC, 0-12 VDC, 0-15 VDC or 0-24 VDC respectively; available for models up to 3kV - eg. Q30N-12