Power Amplifiers / Magnet Power Supplies
30MHz Differential / Dual-Channel Signal Amplifier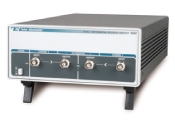 The 9250 is a bench-top, 2U, half 19" rack size, fully metal case dual channel amplifier. The instrument can be configured to be used as two, single-ended independent channels, or as a one input with two differential outputs. The waveform-amplifier combo is an ideal solution for virtually any high-voltage, wide bandwidth application.
Large signal bandwidth to 15 MHz
Small signal bandwidth to 30 MHz
High amplitude to 40Vp-p (into high impedance)
Slew rate to 500V/µs
Low distortion
Custom Configuration of: Gain, Input impedance, Output impedance, Output configuration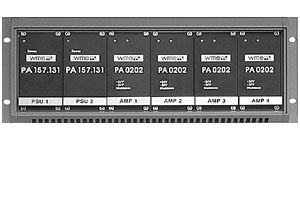 4 Channel Power Amplifier
40 W / 200 VRMS / 0.2 ARMS per channel
Power-bandwidth 45 Hz - 1000 Hz
Small-signal-bandwidth 5 Hz - 10 kHz
Monitor outputs for output current
Complete protection against overload, overtemperature and short circuit
Can be used as 4-phase AC source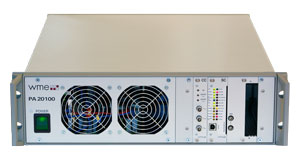 The magnet power supplies by our affiliate company WME Power Systems are being used in reputed research facilities, e.g. the electron storage ring BESSY II in Berlin. They satisfy the highest demands for precision and reliability.