JPxxkW series
PROGRAMMABLE HIGH POWER DC-POWER SUPPLIES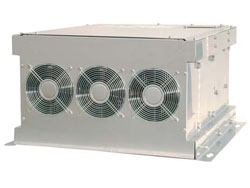 The new modular JUST POWER!- series provides 12kW, 18kW, 24kW, 30kW and 40kW of programmable DC power in smallest chassis.
This is the highest power density product available for a programmable DC power supply in this power range.
The JUST POWER! modules use the state-of-the-art switching technology that minimizes switching transients and contributes to the high efficiency, low noise and high reliability of this product. It is also power factor corrected for low current draw and reduced generation of input current harmonics.
For systems applications, multiple units can be rack mounted in multiple output configurations or using the paralleling for bigger power or higher voltage (up to 600VDC). The small size and high power density of the JUST POWER! Series - combined with the Remote Box or 19"- 1HU front panel - also makes it a smart choice for benchtop and test applications where wide adjustment of output voltage or current is required in a compact package providing up to 40kW watts per module. Settings of output voltage and current control are remote via analog signals 0-10VDC or factory presetting via trimpot's.
Features:
Paralleling for high power / voltage
Digital displays and 10-turn pot's for voltage/current (Remote Box or 19"-1HU panel)
RS232, USB, CAN Interface
Sequencing, Battery/fuel cell simulator