JB, JBE series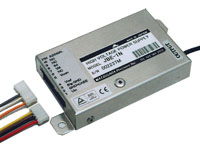 This model is an ultra low ripple, high voltage power supply, specially developed for photomultipliers. It can also be used as a power supply for radiation detectors such as phototubes, GM tubes, and proportional counters.

Features:
Exeptional low ripple and high stability
Remote voltage and resistance programmable
Voltage and current monitor
Protected against arc and short circuit
Optional output connector
EN60950-1 and CE approved
TÜV approved (0.6kV – 2kV models)
Specifications:

Input Voltage: +24V ±10% @300mA TYP.
Remote programming:


An external 5kOhm potentiometer or a remote 0 to +10V source
(input impedance 100kOhm typ)

Regulation:


Line : 20ppm for ±1V input change
Load : 20ppm for 0 to 100% load change

Stability: 15ppm/15min, 50ppm/8h
Temperature coeff: 50ppm/°C max, 20ppm/°C typical
Vref out: 10V ±2%, 50ppm/°C
Monitor Output:


Voltage & Current, 0 to +10V ±2.5% accuracy (output impedance 10kOhm typ)

Current limit: 120% of maximum output current
Protection: Short circuit and arc protected
I/O terminal:


Input : JB : Connector

Connector housing (MOLEX)
4 PIN 22-01-2045
5 PIN 22-01-2055
CRIMP PIN : 08-50-0032

JBE : Connector (mating connector with 1 foot (30cm) leads assorted)

Connector is EHR (JST)

Output : 50cm RG-174u cable

Temperature range:


Operating : -10 to +50°C
Storage : -20 to +70°C
Note : These specifications are at the maximum rated output after a 1h warm-up period unless otherwise specified.
Output voltage
(kV

DC

)
Output current
(mA)
Model
Ripple
Positive output
Negative output
HF
LF
0 to 0.3
8
JB-0.3P

JBE-0.3P

JB-0.3N

JBE-0.3N

1mVp-p
(>5kHz)
4mVp-p
(≤5kHz)
0 to 0.6
3
JB-0.6P

JBE-0.6P

JB-0.6N

JBE-0.6N

0 to 1
2.5
JB-1P

JBE-1P

JB-1N

JBE-1N
0 to 1.5
1.5
JB-1.5P

JBE-1.5P

JB-1.5N

JBE-1.5N
0 to 2
1
JB-2P
JBE-2P
JB-2N
JBE-2N