HMA series
Features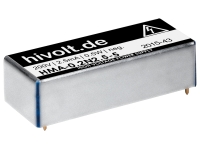 Small modules for PCB mounting
High voltages up to 1 kV at max. 1 W output power
Polarity positive or negative, factory fixed
Stable output voltage
Low ripple and noise
Very low EMI
Patented resonance converter technology
Internal reference voltage
Wide range of DC supply voltage
ON/OFF input
Voltage monitor output
Modified versions on request
The HMA series offers high voltage power supply modules in a small packaging for PCB mounting and soldering.
Fixed polarity - positive or negative. Stable output voltage, low ripple and noise. Internal reference voltage. The output voltage can be controlled either by an external control voltage or by an external potentiometer or programming resistor.
The patented resonance converter technology and the metal box shielding guarantee low EMI.
Model Overview 0.5W
Output Voltage
Output Current
Model
Supply Voltage
VO
IO
Positive Polarity Output
Negative Polarity Output
VSUP
0 – 200 V
2.5 mA
HMA-0.2P2.5-5
HMA-0.2N2.5-5
4.5 – 5.5 V
0 – 400 V
1.2 mA
HMA-0.4P1.2-5
HMA-0.4N1.2-5
4.5 – 5.5 V
0 – 600 V
0.8 mA
HMA-0.6P0.8-5
HMA-0.6N0.8-5
4.5 – 5.5 V
0 – 800 V
0.6 mA
HMA-0.8P0.6-5
HMA-0.8N0.6-5
4.5 – 5.5 V
0 – 1000 V
0.5 mA
HMA-1P0.5-5
HMA-1N0.5-5
4.5 – 5.5 V
Model Overview 1W
Output Voltage
Output Current
Model
Supply Voltage
VO
IO
Positive Polarity Output
Negative Polarity Output
VSUP
0 – 200 V
5 mA
HMA-0.2P5-12
HMA-0.2N5-12
11.5 – 15.5 V
0 – 400 V
2.5 mA
HMA-0.4P2.5-12
HMA-0.4N2.5-12
11.5 – 15.5 V
0 – 600 V
1.6 mA
HMA-0.6P1.6-12
HMA-0.6N1.6-12
11.5 – 15.5 V
0 – 800 V
1.2 mA
HMA-0.8P1.2-12
HMA-0.8N1.2-12
11.5 – 15.5 V
0 – 1000 V
1 mA
HMA-1P1-12
HMA-1N1-12
11.5 – 15.5 V