A, AH series
Output up to 6kV; 1W, 1.5W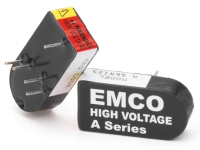 Proportional Input/Output
Extremly Low Profile and Small Volume
Low Noise Quasi-sinewave Oscillator
Control Pin
Low Leakage Current
Low Input/Output Capacitance
Input to Output Galvanic Isolation
Short Circuit Protection, 1 Minute Minimum
No Minimum Load Required
No External Components Required
Three Standard Input Voltage Ranges
Designed to meet RoHS and REACH Directives
MTBF >1,862,000 hours, per Belcore TR 332
The A / AH Series is a line of ultra-miniature, HV DC/DC converters that set an industry standard in high voltage miniaturization. This unique package occupies less than one tenth of a cubic inch of volume, and features an extremely low profile of only 0.250 inches (6.35 mm). Controllable output voltages range from 100 V to 6 kV. These component-sized converters are ideal for applications requiring minimal size and weight.
Turn-on voltage is very low at less than 0.7 V, allowing for wide output voltage operating range. Use of a resonant, quasi-sinewave oscillator and fully shielded transformer result in clean, reliable high voltage conversion with inherently low ripple, EMI/RFI and input ripple current, making this product ideal for integration into noise sensitive equipment.
A separate high impedance control pin is standard and is designed for external error amplifier and/or DAC control in closed or open loop systems. Or simply connect the control pin to the + input for proportional input to output operation.
No external components or minimum load are required. A proprietary encapsulation process and custom 94V0 compliant, high performance formula are used to achieve excellent high voltage and thermal properties. Isolation is ±500 V bias on the output return. Input to output leakage current is very low at less than 100 nA and coupling capacitance is also low at <250pF.
Specifications:

Input Voltage: 0-5 VDC, 0-12 VDC, 0-24 VDC
Turn-On Voltage: < 0.7 VDC
Isolation: < ±500 V bias on output return
Ripple A Series: 1%p-p max.
Ripple AH Series: 2%p-p max.
Control Pin Voltage: 0 to max. input voltage
Dimensions (LxWxH):
A01 to A20: 23.4 x 11.4 x 6.4 mm3
A30 to A60: 28.7 x 11.4 x 6.4 mm3
Operating Temperature:
-25°C to +75°C

Applications:

Avalanche Photodiodes
Capacitor Charging
Electrophoresis
Photomultiplier Tubes
Piezo Devices
Mass Spectrometry
Sustaining Ion Pumps


Options:

T - Extended Operating
Temperature
(A Series only)
-55°C to +85°C
Model Overview
Output Voltage
1 W Models - A Series
1.5 W Models - AH Series
[VDC]
Positive Output Model
Negative Output Model
Max. Output Current *1
[mA]
Positive Output Model
Negative Output Model
Max. Output Current *1
[mA]
0 - 100
A01P-*2
A01N-*2
10
AH01P-*2
AH01N-*2
15
0 - 200
A02P-*2
A02N-*2
5
AH02P-*2
AH02N-*2
7.5
0 - 250
A025P-*2
A025N-*2
4
AH025P-*2
AH025N-*2
6
0 - 300
A03P-*2
A03N-*2
3.33
AH03P-*2
AH03N-*2
5
0 - 400
A04P-*2
A04N-*2
2.5
AH04P-*2
AH04N-*2
3.75
0 - 500
A05P-*2
A05N-*2
2
AH05P-*2
AH05N-*2
3
0 - 600
A06P-*2
A06N-*2
1.67
AH06P-*2
AH06N-*2
2.5
0 - 700
A07P-*2
A07N-*2
1.43
AH07P-*2
AH07N-*2
2.15
0 - 800
A08P-*2
A08N-*2
1.25
AH08P-*2
AH08N-*2
1.87
0 - 900
A09P-*2
A09N-*2
1.1
AH09P-*2
AH09N-*2
1.67
0 - 1000
A10P-*2
A10N-*2
1
AH10P-*2
AH10N-*2
1.5
0 - 1200
A12P-*2
A12N-*2
0.83
AH12P-*2
AH12N-*2
1.25
0 - 1500
A15P-*2
A15N-*2
0.67
AH15P-*2
AH15N-*2
1
0 - 2000
A20P-*2
A20N-*2
0.5
AH20P-*2
AH20N-*2
0.75
0 - 3000
A30P-*2
A30N-*2
0.33
AH30P-*2
AH30N-*2
0.5
0 - 4000
A40P-5
A40N-5
0.25
AH40P-5
AH40N-5
0.37
0 - 5000
A50P-5
A50N-5
0.2
AH50P-5
AH50N-5
0.3
0 - 6000
A60P-5
A60N-5
0.167
AH60P-5
AH60N-5
0.25
*1 - At maximum rated output voltage

*2 - Input voltage range designator: "5", "12" or "24" for 0-5 VDC, 0-12 VDC or 0-24 VDC respectively; available for models up to 3kV - eg. A30N-12