4000 series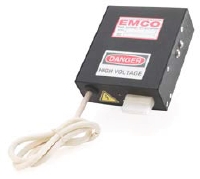 Applications:


PCathode Ray Tubes, Lasers and Q Switches
Capacitor Charging, Test Instrumentation
Electrostatic Field Generators, Electrophoresis

Features:


0 to 100% Adjustability
Voltage Programmable
Voltage Monitor (Excluding Models 4300 & 4330)
Remote On/Off Control
EMI/RFI Shielding
Short Circuit Protection
Reverse Polarity Protection
Arc Protection
The 4000 Series is a line of fully adjustable, regulated DC to DC converters providing an economical source of high voltage that is ideal for CRT's, lasers, Q switches, PMT's, detectors, electron and ion guns, capacitor charging, test equipment, and many other applications.
These units feature remote voltage programming, resistance programming, or manual adjustability via an externally accessible potentiometer.
Short circuit protection, arc protection, and reverse polarity protection are standard as well as remote on/off and a 0 to 10 volt output voltage monitor. The 4000 Series has a built-in 10V precision reference output available.
These units also feature excellent EMI/RFI shielding. Two #6-32 studs mount the supply in a three inch mounting pattern.
| Model | Output Voltage | Output Current *1 | Ripple |
| --- | --- | --- | --- |
| 4010 | 0 - 1kV | 10mA | 0.1% |
| 4020 | 0 - 2kV | 5mA | 0.1% |
| 4030 | 0 - 3kV | 3.3mA | 0.2% |
| 4050 | 0 - 5kV | 2mA | 0.1% |
| 4070 | 0 - 7kV | 1.4mA | 0.1% |
| 4100 | 0 - 10kV | 1mA | 0.1% |
| 4120 | 0 - 12kV | 0.8mA | 0.1% |
| 4150 | 0 - 15kV | 0.67mA | 0.1% |
| 4200 | 0 - 20kV | 0.5mA | 0.2% |
| 4300*2 | 0 - 30kV | 0.33mA | 0.4% |
| 4330*2 | 0 - 33kV | 0.30mA | 0.2% |
*1 At Maximum Rated Output Voltage
*2 No Voltage Monitor
SPECIFICATION





Input Voltage:
+24V (+20% -5%)
Analog Control:
0V to 10 Volts=0% to 100% Output
Voltage Monitor:
0V to 10 Volts=0% to 100% Output
ON/OFF Control:
ON=0V or N.C., OFF=5V
Reference Output:
10V (±0.5%)
Operating temp.:
-10°C to +60°C
Weight:
0.675 kg approx.
Case Material:
Black Anodized Aluminium
Input Connector:
Molex 09-75-2074
Mating Connector:
Molex 09-50-3071 (Supplied)
Molex Pins:
08-50-0106 (Supplied)
Models 4010 thru 4200
HV Lead:

30KV 22 AWG
Models 4300 thru 4330
HV Lead:
40KV 20 AWG

OPTIONS


N Negative Output Voltage
(for example 4300N)
-R RoHS compliant
Output Connector (AMP#861753-1)
Epoxy: A Low Outgassing
(NASA approved per ASTM E-595-93)
B UL 94 V0 flammability rating
* Specifications are subject to change without notice